Stacky Dash is a popular and enjoyable hypercasual game that can be played right now. It was created by Born2Play and released by Supersonic Studios LTD, and it's an action game with a puzzle element. The goal of this game is to create the tallest possible tower of tiles. You can use the tiles to get from one area to another and ultimately open the prize chest. You'll be able to gain tiles just by walking over them if the path you're on happens to contain them.
To get where you're heading, just swipe in that direction. Swipe in any direction: up, down, right, or left. After initiating movement with a swipe, your character will keep going until it hits an obstacle, at which point you can choose a new path. Remember that your options for movement are constrained by the space at your disposal. The routes you'll take change from one stage to the next. This implies that there are a variety of paths to the treasure chest that you can take to collect all of the tiles in the level. This is simple at first, but it quickly becomes more difficult as you go. The purpose of this article is to serve as a Stacky Dash strategy guide.
Tips To Playing Stacky Dash
In Stacky Dash, the final objective is to open the chest at the level's finish and claim your prize. If you do that, your score will multiply by a factor of five, and you'll get more gold coins. However, you'll need to stack as many tiles as possible to do this. Even if you fail to get the treasure, you can still complete the level and earn a score boost based on how close you came to the chest. Here are some pointers to keep the treasure box operating smoothly at all times.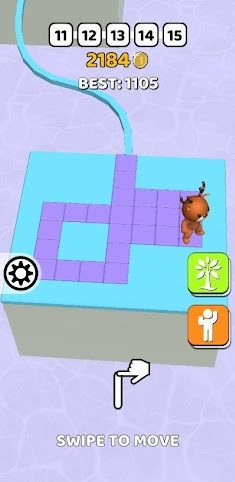 ALWAYS COLLECT EVERY TILE
When playing Stacky Dash, it's crucial to remember that you must acquire all of the tiles. This is because it's a prerequisite for opening the prize chest at the conclusion of the game. If you aren't careful and miss even one tile, you might not make it to the chest's platform and end up with a lower score.
The best part about this game is that it does not have a timer or limit on how long you can play for. You have all the time in the world to figure out the best route to follow to collect all of the tiles. So there's no need to hurry up and reach the conclusion. To unlock the chest later on, you'll need to carefully gather all of the tiles on the level.
BE CAREFUL OF THE BOUNCY CORNERS
The journey becomes increasingly difficult as you advance through the levels. The bouncing turns add to the difficulty of the already more convoluted journey. When your character reaches the end of a path, it typically stops. The bouncy corner, however, will cause your character to bounce and continue moving in a new direction. Something to keep an eye out for, especially on the final island.
It would be unfortunate to fail to complete the level because of a terrible bounce. A little triangle in one corner of the bouncy corners suggests that it is a good place to bounce. The bouncing marker transforms into an arrow on select stages. Keep an eye out for it so you don't bounce in the direction of the door.
TAKE ADVANTAGE OF BONUS ROUNDS IN STACKY DASH
After completing a certain number of levels, you'll unlock access to a special bonus round. In order to unlock that bonus level, you'll need to view an advertisement. Considering how easy it is to use, it's in your best interest to do so. There is no tile collection in the bonus round. Instead of points, you'll be earning coins. If this option appears, take advantage of it immediately to increase your coin total in the game.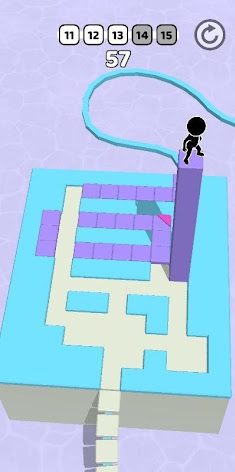 source: Snow Rider 3D
WATCH MORE VIDEOS TO INCREASE COINS
In this game, you can earn coins to customize your avatar or the environment. They won't help your performance much, but they'll make the game more unique and fun. Watching advertisement videos after completing a level will greatly enhance your coin earnings and speed up the process of buying the skin you choose.
Stacky Dash Final Thoughts
You will have fun with Stacky Dash because it is a challenging action puzzle. The early rounds are really easy, but the later ones can be quite difficult. But with these hints, you may play the game more effectively and unlock the treasure chest at the end.